Most people have seen the movie "Forest Gump" and I believe they all remember the most famous quote:
"Life is like a box of chocolate, you never know what you gonna´get".
Well, you do not have to worry when baking my different chocolate cake recipes-
I am always gonna´tell you what you´ll get- just read the how-to :-)
This cake was seen on a other blog and just had to be baked. It was so tasty, soft and full of flavour.
We ate it while still warmish and needless to say I will be baking this soon again.
Serves 6-8 | Time needed ~ 90 min
For the cake-base:
200 g unsalted butter, room temped
2,5 dl sugar
1 dl cocoa
3 eggs
3,5 dl wheat-flour
1/2 tsp baking powder
1/2 tsp sodium bicarbonate
1/2 tsp salt
1 dl plain yoghurt
For the filling:
225 g cream cheese, room temped
25 g butter
1 tbsp cornstarch
1 egg
seeds from one dried vanilla fruit
1 can (400g) of sweetened condensed milk
For the cake- base: Grease a cake pan (that holds at least 2,3l) and powder it with cocoa or breadcrumbs.
Mix the butter and sugar with an electric mixer until it almost gets a white colour. Add the cocoa, then the eggs, one at the time,
Mix the flour, baking powder, sodium bicarbonate and salt in a separate bowl then add it to the butter mixture. Add the yoghurt and blend it in.
Pour the mixture in the cake pan.
For the filling: Stir the butter, cream cheese, vanilla seeds and cornstarch together, then add the egg and condensed milk. Blend well.
Pour the filling on top on the cake-base.
Bake on 175 C for 50 minutes. Enjoy the cake while still a little warm.
Optional: The second day I made a chocolate glaze just by melting some dark chocolate with a tablespoon milk and a teaspoon of oil. This I poured over the cake and decorated with pecans.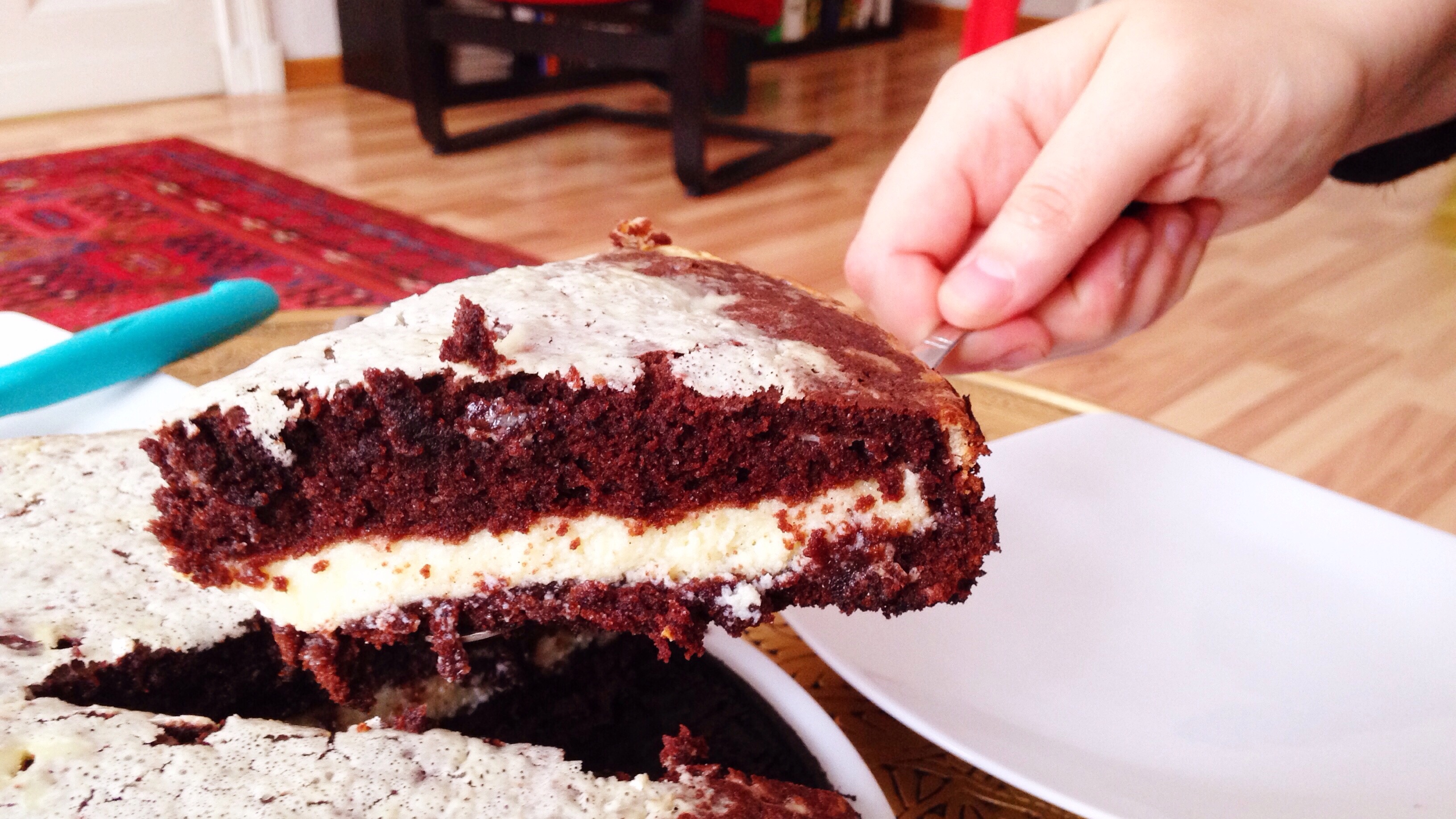 Originally from: http://blogg.sydsvenskan.se/175grader/2015/04/30/mjuk-chokladkaka-med-fyllning-av-cream-cheese-och-kondenserad-mjolk/