Now it's time for something refreshing! This cake goes perefect with the warm weather outside, it isn't heavy on the stomach and it quenches the thirst. I used mangos, because it's my favourite fruit in the summer period, but if you wish you can use any other fruit e.g. apricots. Feel free to use your fantasy and taste :-)
Serves 16 | Time needed ~ 45 min + 5 h cooling time
125 g butter
250 g sponge finger biscuits (ladyfingers)
12 gelatine leaves
1 tin mango slices (425 ml)
600 g whole milk yoghurt
100 g sugar
1 pack vanilla sugar
1 tbsp lemon juice
300 g whipped cream
1 small ripe mango
mint leaves for decoration
oil for the springform pan (∅ 26 cm)
1 big freezer bag
Melt the butter first. Put the sponge finger biscuits in the freezer bag and crumble them by using a rolling pin. Mix the crumbled finger biscuits with the melted butter very well. Grease a 26 cm springform pan with oil, put the mass of crumbs in it and shape a cake base. Let it cool for 1 h.
Soak 4 and 8 leaves of gelatine in cold water seperately. Mash the mango together with the juice. Squeeze the 4 leaves of gelatine, let it dissolve in 4 tbsp of mango puree and mix it with the rest of mango puree (Improtant: No cooling!)
Mix the yoghurt, sugar, vanilla sugar and lemon jucie together. Squeeze the 8 leaves of gelatine and let it dissolve on a low heat. Mix 3 tbsp of the yoghurt cream with the dissolved gelatine and then mix the rest of the yoghurt cream into it. Let it cool for approx. 5 min until it starts gelatinising slightly.
Mix the whipped cream with the yoghurt cream. Spread the yoghurt cream and mango puree on the finger biscuits cake base alternately. Form a Pattern by using a toothpick. Let it cool for approx. 4 h.
Peel the mango, cut it into cubes and spread it on top of the cake.
Decorate the cake with mint leaves.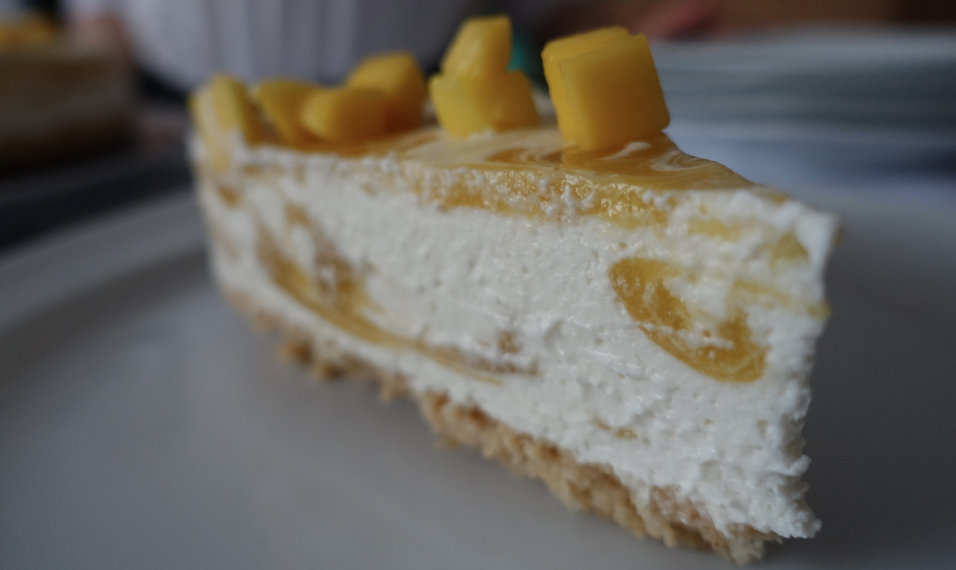 Adapted from kochen & genießen (Tortenhits & Feine Kuchen) magazine.